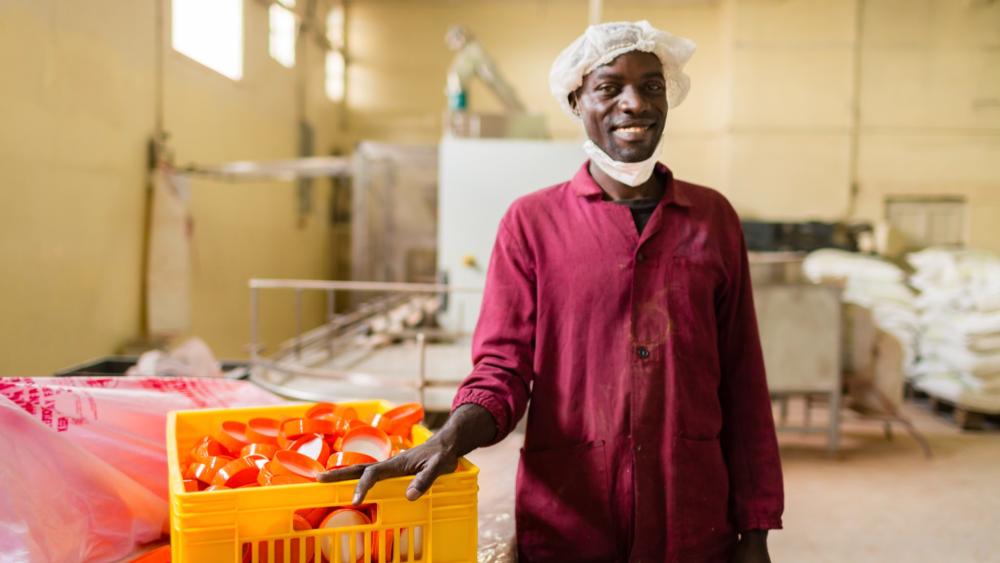 There are an estimated one billion volunteers in the world. They play a crucial role in building resilient communities and helping those in need. However, the COVID-19 pandemic has had a significant impact in bringing that number down. For workplace volunteering programs, it's no surprise that in-person volunteerism dropped as social distancing requirements and remote work began almost overnight. 
Virtual volunteerism is a great way to continue and even grow a culture of giving back, despite in-person limitations. Our organization, Partners in Food Solutions (PFS), is a consortium of seven world-class companies – General Mills, Cargill, DSM, Bühler, The Hershey Company, Ardent Mills, and J.M. Smucker -who have been supporting remote volunteering for 13 years,. Employees of our consortium partners share their expertise remotely with  entrepreneurial food companies in Africa to help strengthen their businesses and improve local food security. Over the years,  we've learned to overcome challenges around technology, how to engage a remote workforce, and more. In 2021, we supported 616 volunteers, accounting for over 17,000 volunteer hours. Each one of these volunteers represents a positive impact on a client, a community, a country and a continent. The passion for food security, commitment to help, and know-how that is shared is truly treasured by the clients we serve.
The Personal Case for Virtual Volunteering 
Take for example Natalia Faiden and Tomomi Fujimaru, food safety and quality professionals from General Mills. They stepped up and volunteered to share their knowledge with Forest Fruits, one of the leading producers of organic honey and beeswax in Lusaka, Zambia. Forest Fruits sources honey from over 7000 traditional beekeepers that utilize sustainable farming practices. 
Forest Fruits wanted to become HACCP certified (an international standard defining the requirements for effective control of food safety) but had challenges passing their previous certification audit due to lack of in-house expertise. Natalia and Tomomi volunteered their expertise and time with Forest Fruits to achieve certification. "Volunteering enables me to take advantage of the resources and knowledge at General Mills to support and develop the food industry where it is most needed, while getting to know other cultures and learning from them, " said Natalia. "Without a doubt, my favorite part of this project was seeing Forest Fruit's transformation and helping them receive the certification." That certification will help the company grow, maintain high quality and safety standards, and expand their market reach.
The Business Case for Virtual Volunteering
Both employers and employees benefit from supporting a culture that facilitates volunteerism and meaningful connection. In addition to the high personal satisfaction that comes with volunteering, 68 percent of PFS volunteers surveyed said that they have gained new or improved skills through volunteering with us. Additional research also reinforces the importance of employee practices like volunteerism that "goes beyond company walls." According to research these organizations are 2.2 times more likely to exceed financial targets, 2.8 times more likely to adapt well to change and more than three times more likely to retain employees and reduce absenteeism and health insurance claims.
The Secrets to a Successful Program
Keys to a successful knowledge-transfer volunteering program like ours includes a place where the specific expertise of your employees is needed and designing a program that has specifically designed projects that volunteers and clients can engage in virtually. At PFS we only work on projects that a client asks for and prioritizes. In effect, they "pull" the expertise from us, we don't "push" them into prescribed generic solutions. Additionally, engagements should be clearly structured from the beginning using well-scoped project charters that include transparent and realistic timelines, objectives, and deliverables. We spend time setting expectations with our volunteers so they are prepared to address these unique challenges in resource constrained environments.      
We're happy to share additional insights on volunteering, including our findings on implementing successful remote volunteering programs. Please see our resource: Building a Skills Based Remote Volunteering Program.
____
Partners in Food Solutions, a consortium of leading global food companies – General Mills, Cargill, Royal DSM, Bühler, The Hershey Company, Ardent Mills and The J.M. Smucker Company – is working to strengthen food security, improve nutrition and increase economic development across Africa by expanding and increasing the competitiveness of the food processing sector. We link corporate volunteers from our world-class corporate partners, who share their expertise with promising entrepreneurs in eleven African countries.