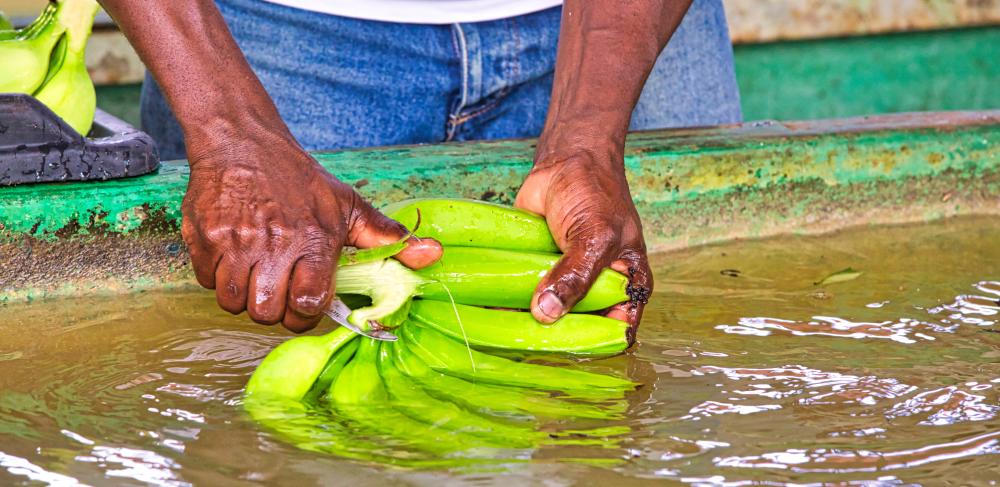 "Eshandy" is the trendiest beverage in Uganda! It's a refreshing juice made from ripened bananas with no artificial sugars, flavor or color added. It is produced by Forest Fruit Foods (FFF) Ltd, an agro-processing company established in 2003.
Uganda is a leading grower of bananas in Africa. However, most of the produce is either exported or consumed in its natural state. Forest Fruit Foods is one of the few players that processes bananas on a commercial scale, with operations along the entire value chain. They do this because effective commercialization requires greater control on the value chain activities, as banana juice is a highly perishable product.
"Eshandy" is made from a variety of bananas that are native to regions in Uganda and Tanzania. Because of that there are no existing global resources or technical support available for processing these varieties. In addition, when packaged the banana juice does not have a uniform color, with bottles from even the same batch having different shades, which is quite undesirable for consumers. This is why FFF reached out to PFS to learn how they could stabilize their product.
With a background in microbiology and more than two decades of experience in food and beverage manufacturing, J.M Smuckers' Sarah Mothershead was a perfect fit to help Forest Fruit Foods. Sarah had a number of hypotheses as to what caused the browning but she needed to prove them before she could propose solutions.
"The team, which included talented individuals from Forest Fruit Food Ltd., Partners in Food Solutions, and other volunteer members, was able to work together to understand the banana juice manufacturing and bottling process to develop test plans aimed at reducing the browning that was occurring in the shelf stable banana juice product over the shelf life in a warm environment. We were able to show that using antioxidants at differing points and in varying concentrations within the process serves to effectively minimize browning reactions. We were also able to provide support for the ideas of the FFF interns for further testing protocols and to bolster the food safety attributes of the product."
Kano Kekurutso of Forest Fruit Foods, said "The team has been excellent with their commitment and level of organization, follow ups and practicality. They have been very realistic and accommodating."Kano considers that the partnership with PFS is very instrumental, not only with the technical issues, but also the commercial aspects."Through this project, we have more systematic and clearer technical controls and protocols. What some may consider a 'small' intervention will lead to huge results for Forest Fruit Foods. Resolving this browning will increase the shelf life of our product which will in turn increase the volumes of the bananas we purchase from farmers, and will lead to market expansion. We look forward to taking these trials from the lab to commercialization."