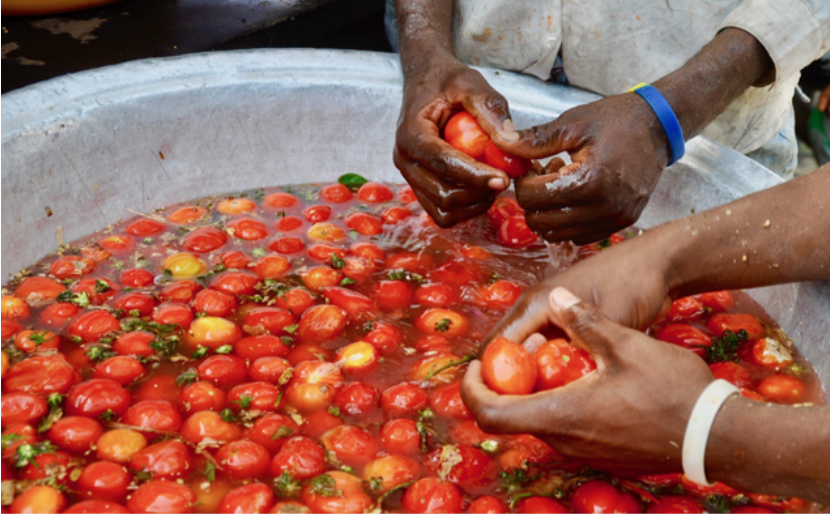 Sometimes it's the simple questions that reveal the most important answers. That's what Ardent Mills' Bill Boyden discovered while working with Tomato Jos, a tomato processing company in Kangimi, Nigeria. The company was formed to process locally grown tomatoes - in season for only a short time - into paste so that the tomato harvest bounty can be preserved.
Tomato Jos was in the process of building a new warehouse to help expand their business and optimize the space for both raw materials and finished goods. At the same time, a staffing and process optimization project began for their expected growth. That is where Bill became involved. "I literally had no previous knowledge of tomato processing at all. So, Tomato Jos may have wondered why I was asking a lot of simple questions." he said. "This project helped me to understand the dynamics of the supply chain – the seasonality of the farming activities, limited time from harvest to processing due to no storage, plant operations only scheduled for a few weeks based on their year-one business targeted sales – and the difficulty of creating an efficient staffing plan with all these considerations."
It was these simple questions that helped lead them to a very customized three-phase staffing plan that would allow them to develop and upskill their staff at the same time that their business was shifting from raw materials to finished product production. "A staffing plan was developed which included several key benefits: team members from the adjacent farming operation could support raw material unloading and maintenance resource needs, inexperienced team members assigned to entry level roles would be provided with learning and development opportunities that would allow them to grow and expand their responsibilities for next phase of roles as the plant progressed. This changes provided a more optimal structure for plant supervision, engineering and laboratory functions," said Bill.
Ironically, Tomato Jos noted that the real life value of appropriate staffing and systems is evident in how PFS itself works. "Our favorite thing about working with PFS has to be how committed the team is to getting us high-quality volunteers," said Processing Manager Francis Bulus. "It's evident in how, at virtually every point, the team communicates its volunteer recruitment plans, philosophy, and status to us, as well as how clearly they often map out our expectations and how these have to align with theirs."
Tomato Jos management reports that recruitment is currently underway for the second stage of their operations, exactly in accordance with their elegant plan.