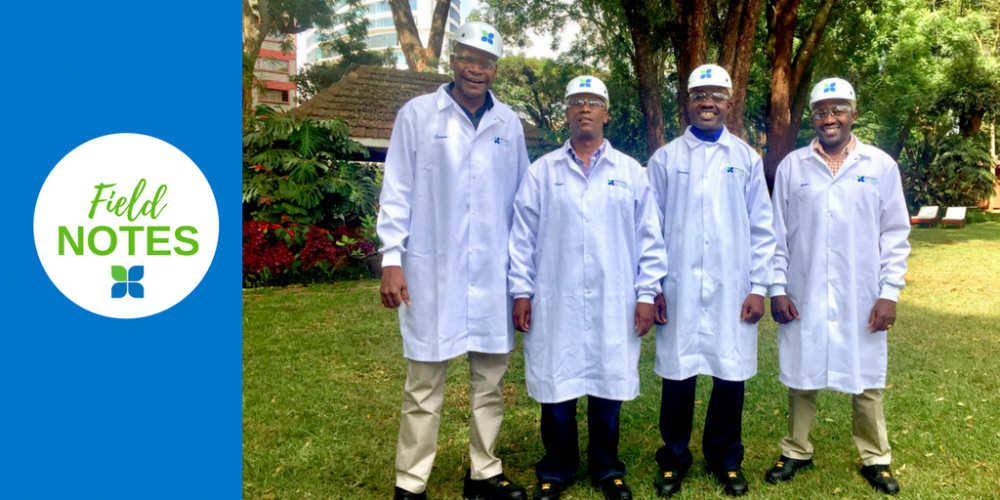 In February, PFS held its 2018 Food Tech Summit in Nairobi, Kenya, where our Africa-based food technologist/program managers met with their Minneapolis-based counterparts for a busy three day working session. The team worked on new initiatives focused on adding more value for our client companies early on in the process of working with PFS and, in particular, communicating our primary focus on workplace safety.
Since 2016, PFS has been directly hiring food technologists to work as program managers in Africa, in collaboration with partner impact investors, to identify high-potential food processors in country and engage them on projects to improve their capacity to produce safe, nutritious foods. This highly-motivated team with deep training and experience in the food processing sector includes Christian Dedzo in Ghana, Daouda Sangare in Cote d'Ivoire, Johnson Kiragu in Kenya, and Edwin Gafa in Uganda.
This summit was the first time all four program managers met together and offered a great opportunity for team building and process alignment, as well as portfolio management and volunteer experience. Our program managers, based in four different countries, shared stories and best practices on navigating the food-processing sector in their home countries. They also discussed how to best explain what PFS offers to clients in places where Partners in Food Solutions is new.
In recent months, the team has been creating resources they can use to portray PFS's value of workplace safety and good manufacturing practices to our clients. Our clients themselves identified their need for information on building a culture of safety at work due to repeated incidents of workplace injuries and even deaths.
In partnership with our newest PFS senior advisor, Kurt Schnieder, Uganda Program Manager Edwin Gafa presented the team with a newly developed Client Safety Brochure, which acts as both an assessment tool and a guide. It contains a safety checklist that the team has already begun using to assess clients' GMP and workplace safety needs. The brochure, titled "Safe food comes from safe people and safe production," emphasizes the importance that PFS and our corporate partners place on workplace safety.
In addition to sharing the new safety assessment and guidelines, the team received PFS-branded personal protective equipment (PPE), which they can wear and serve as an example while visiting both active and prospective clients.
With their safety brochures and PPE, our field team are well-equipped to demonstrate  and teach the importance of workplace safety while giving clients the tools for improving their own facilities.