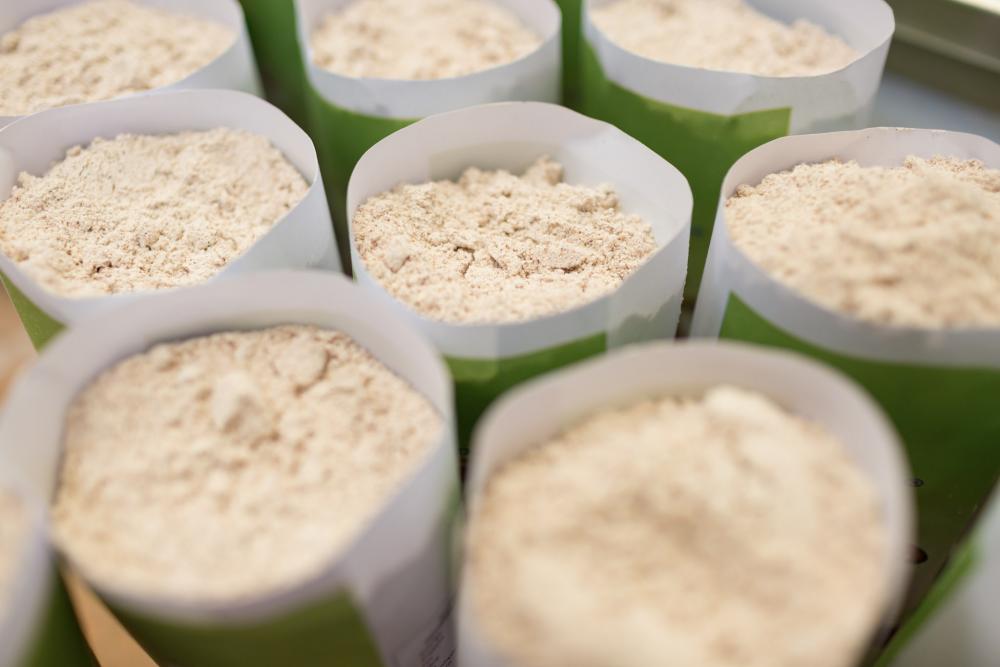 Equatorial Nuts is a nut and fortified blended flour company based in Murang'a, Kenya. To meet strict fortification standards, staff were hand measuring the precise amount of vitamins and minerals, and adding it to their products for each batch. Although a permitted method of fortification, adding nutrients by hand is extremely time consuming and more prone to errors. Looking to improve their system and automate this flour fortification process, Equatorial Nuts reached out to TechnoServe, USAID and Partners in Food Solutions for guidance.
Carolina Mertzger, a process engineer in the Industrialized Milling Solutions Unit at Bühler, joined the project team to help Equatorial Nuts explore their automated fortification options. "Africa is advancing at a fast-pace, but they're still behind in some ways. I joined this project because I wanted to share my knowledge in nutrition and fortification and give back to a continent that I am truly inspired by," said Carolina. "I am originally from Venezuela and Partners in Food Solutions allows me to continue to develop intercultural relationships and connect with people from all over the world."
Carolina, along with two other PFS volunteers, spent several months learning about Equatorial Nuts' process, how it was being used, what physical space was available at their facility, and what they were looking to achieve capacity wise with an automated system. Once the team had an understanding of the client's needs, they started to research options. "The other volunteers and I consulted with our colleagues at our respective companies and we also researched what other US companies were doing and the equipment they were sourcing. One of our biggest challenges was finding a micro dosing system that would fit in the existing system and space available at the client's facility. After several more months of research and discussions with the project team, we came up with several recommendations that we shared with the client."
Based on volunteer recommendations, Equatorial Nuts is currently exploring local partners to source the appropriate technology. Once the new, automatic process is in place, Equatorial Nuts plans to increase production and improve the overall quality of their fortified products.