Planning for a Bright Future with a Facility Upgrade
Following Australia and South Africa, Kenya is the third-largest producer of macadamia nuts in the world. Known for being rich in vitamins, minerals, and healthy fats, macadamia nuts are widely popular in international markets. Sagana Nuts has been processing macadamia nuts in Kenya since 2013 and has recently begun expanding their operations to a new facility to increase process automation. Supporting them in establishing their new facility is William Hajek, an installation supervisor at Bühler.
"The main part of my job is to receive flour milling roller mills from the Bühler manufacturing facility in Switzerland and supervise the mechanical contractors to install the machinery correctly," said William. " At this point in my career, I have learned a lot about streamlining the process of efficiently moving large quantities of bulk food from storage bins to the actual equipment that cuts and/or mixes food before it is packaged. It wasn't long after I heard about PFS and signed up to volunteer that I was placed on the Sagana Nuts plant layout and process flow documentation project."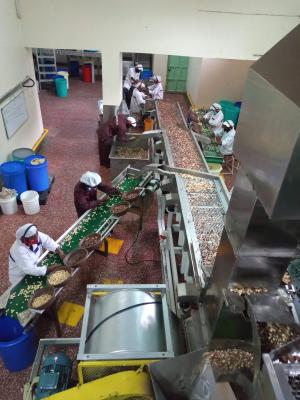 One of the main challenges with the Sagana Nuts project was determining the best solution based on the budget available for their material handling issues. "We started out suggesting an expensive solution to load the storage silos and as the process continued through our bi-weekly Microsoft Teams meetings, we were able to find a workable solution that was affordable," said William. "It was really fun to work with a group of professionals from all over the world. Everybody had an equal share in creating the solution for Sagana Nuts."
"The PFS project team was essential to our success," said Sagana Nuts Factory Manager Dickson Wachira. "We have a vision of being a globally recognized food processing company and it is important to us to learn from those ahead of us in the field. The team provided crucial reports relevant to the project and also gave us guidance in not just the details of the project but more than we expected: they gave us a platform to think deeply about process and facility improvements."
Since the project closed in December 2022, the client is using the facility diagram provided by the volunteer team to map out the new facility's layout. The client is also preparing for and setting up the chute for nut delivery into the dryers for a more efficient and automated process.