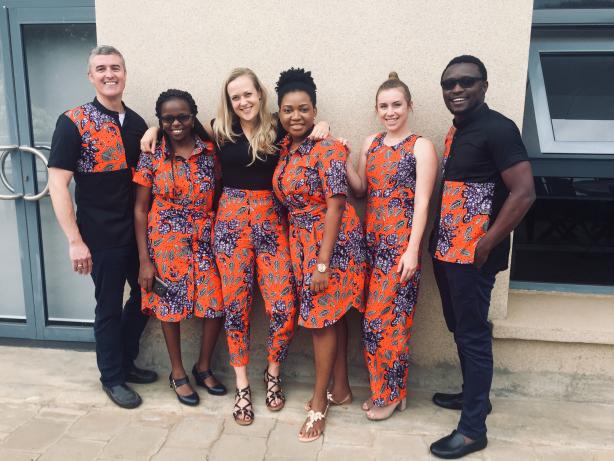 PFS is excited to welcome Faith Ngila and Chenge Wandabwa to our team as Field Program Associates based in Nairobi. They will be working to support volunteers and clients with operations in Kenya, Tanzania, Ethiopia and Uganda.
Faith has a rich background in international development, most recently with Kenya Community Development Fund. She is a published author and is currently working on her masters degree. Chenge spent the past five years working for One Acre Fund, a highly-regarded organization supporting  smallholder farmers in East Africa. He previously worked with the Kenya Red Cross and is also currently working on his masters degree.
PFS staff from headquarters, David Dayhoff, Amanda Traaseth and Magdalene Mbaga, along with Yvonne Akorfa Hormenoo, Field Program Associate in Ghana, gathered in Nairobi for intensive training in August. As a fun aside, they discussed getting a PFS "uniform" for the team. With a tradition of colorful fabrics and quick-turn around hand-stitched clothing common across Africa, the team had their "uniforms" ready to wear in three days!