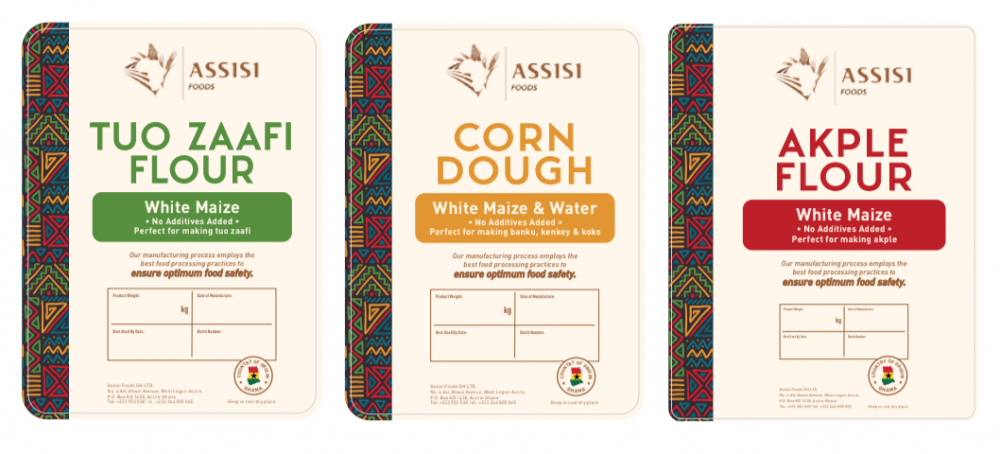 AJ Aumock is a food industry veteran with over 25 years of experience as a marketer. He currently leads the marketing efforts for Cargill's Truvia, a zero-calorie, plant-based Stevia sweetener brand. Throughout his life, AJ has been an avid volunteer – working with children, building schools and packing meals – but saw PFS as an unique opportunity to use his skills and expertise to help others and develop sustainable businesses. For the past six months, AJ has been supporting PFS client Assisi Foods, a Ghana based maize milling company, with the development of packaging label designs.
Assisi Foods was established in 2017 and currently produces several varieties of maize flour blends. "Our vision is to grow our business and supply staple foods for the Ghanaian market," said Victoria Dzigbordi Akumpule, co-founder and general manager of Assisi Foods. "PFS created the perfect platform for us to receive much-needed professional help in designing our product labels so we can reach as many food lovers as possible." In collaboration with Minneapolis-based design agency Mackey Creative, AJ and the volunteer team developed several packaging designs that brought Assisi's brand to life. The team was influenced by the colors of Africa when conceptualizing the design for the labels. They also incorporated a popular pattern that would be
recognized by the local community.
"My favorite part of this project was the moment we unveiled the packaging designs to Victoria for the first time," said AJ. "Seeing her witness her vision through colors, words and images was a magic moment for us." Through this project, Victoria and her team have learned a lot. "Working with different experts on the various areas of marketing brought up strategic areas as a brand we will continue to focus on as we move forward," said Victoria. Assisi Foods is currently in the process of getting their brand registered with the Food and Drugs Authority and the Ghana Standards Authority. "I know the new labels will help us reach a more elite customer base and increase our market share," said Victoria. "The outcome of the product labels really got me excited about what is next for Assisi Foods!"