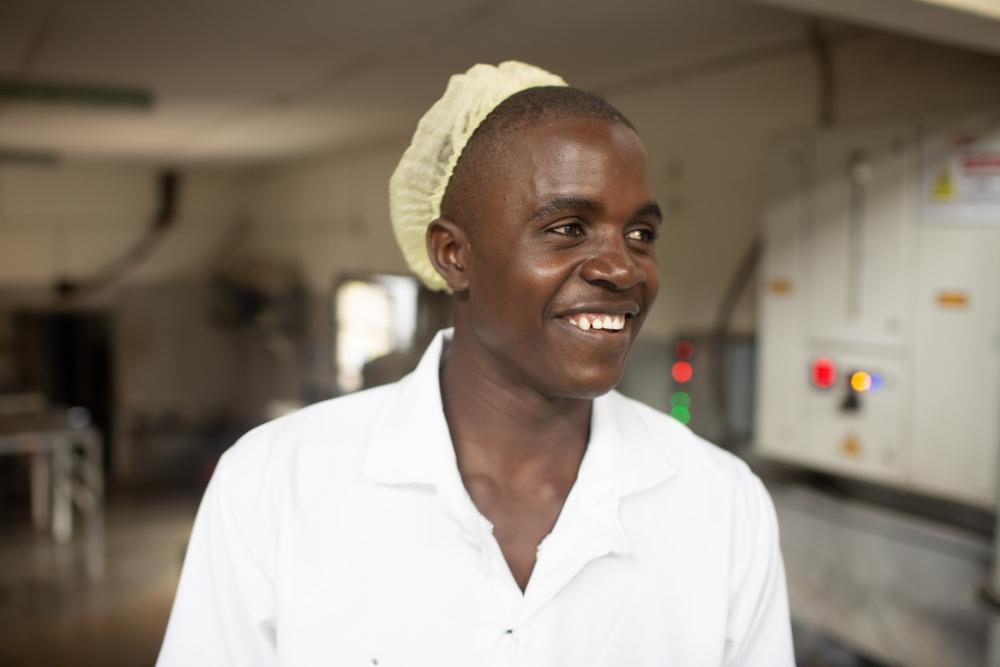 For the past 18 years, Community Markets for Conservation (COMACO) has been leading the way in conversation across Zambia. "COMACO originally formed to provide economic opportunities for poachers in the area so they didn't have to rely on poaching for an income," said COMACO CEO Dale Lewis. "We now engage small-scale farmers, most with one to two acres of farmland, who care for the soil and environment." Dale approaches his business by seeing what farmers are producing in the local community and working with them to add value to their crops. COMACO originally started with rice because it was a crop that was being grown in the communities where wildlife lived. Since then, COMACO has added several legume products to their portfolio not only because they're popular in the community and healthy, they also help bring valuable nutrients back to the soil.
Most recently, Dale noticed that farmers in his community were sitting on crates and crates of tomatoes and the idea of producing ketchup occurred to him. "During the dry season women produce a lot of tomatoes," said Dale. "I instantly saw an opportunity to help them make more money by adding value to their tomatoes and processing them into organic ketchup." Despite having little knowledge in tomato processing, Dale knew this would bring a lot of needed opportunity to the area so he reached out to PFS and their volunteer network for advice.
PFS engaged Kurt Villwock, a principal scientist at General Mills with tomato processing experience, to help with the request. "I was first introduced to PFS by my leadership team at General Mills who realized I may be a good match to help solve a problem," said Kurt. "I've worked in the food and beverage industry for over 20 years and have a PhD in Food Science. I wanted to use my skills and expertise to help others." In order to start processing tomatoes at their new facility in the Zambian capital, Lusaka, COMACO needed advice on what the processing would look like, estimate cost for small-scale production, and equipment recommendations. After a few one-hour calls and robust discussion, COMACO received a detailed guidance document from Kurt that would help them get started with a small-scale organic tomato processing plant.
"This is some of the clearest and most helpful instructions on food processing we've had yet," said Dale. "We had received a quote from an equipment vendor and Kurt pointed out that the processing line we were looking at would not be able to retain the color of the ketchup or provide a usable by-product." Utilizing the guidance document, COMACO is working with local equipment vendors to source appropriate equipment for their future plant. Additionally, Dale is working on raising the necessary capital to help COMACO achieve their vision of opening the new tomato processing plant. "We wish we could have Kurt here in Zambia helping us make COMACO the next General Mills in Africa," said Dale. "We had a vision of being a brand for Africa and General Mills and PFS have helped make that possible."
In September 2021, COMACO was awarded a $600,000 grant from the Enterprise Challenge Fund to finance a tomato production plant that will provide additional income to more than 20,000 farmers in Zambia.