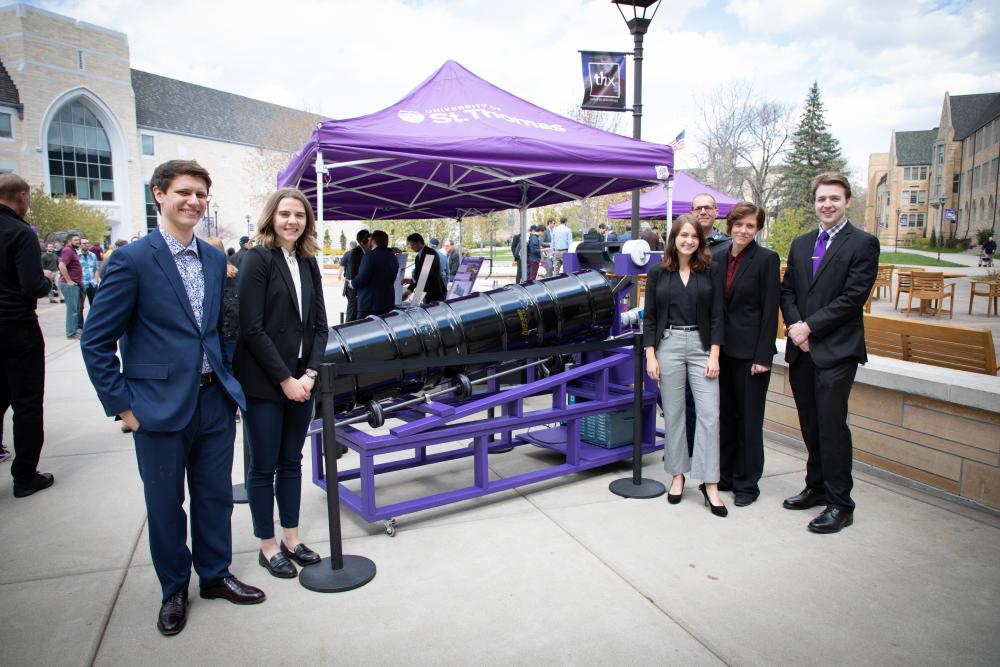 On Friday, engineering students from the University of St. Thomas presented their senior projects that were developed with industry and nonprofits to engineer special prototype solutions to real-world problems. This year, five students worked with PFS volunteer Jesse Theis, who works for Bühler, PFS partner TechnoServe with support from USAID, and the University of Dar es Salaam in Tanzania to address a challenge that local miller Sozi Integrity faced.
Sozi Integrity is a milling company located in Tanzania. They mill maize into flour, and also sun dry and sell the separated bran to animal feeds processors. During the rainy season –September to May - the environment is not conducive to sun drying, and therefore Sozi loses about $833 worth of maize bran daily. The team worked on designing a scalable dryer that would ensure the dried bran revenue stream year-round, and reduce the food waste. The result of this project will be a dryer design and we've recently completed the first test run of a continuous rotary dryer which has been designed and developed over the last 8 months.
One of the biggest takeaways for the students was the chance to actually construct their design. Jesse Theis says he enjoyed watching them problem solve and learn. "Working directly with the students at St. Thomas was wonderful. They're intelligent, resourceful and effective young entrepreneurs," he said.
Now that the PFS and St. Thomas team are done with their part, the design and testing data will be passed on to the student engineering team at the University of Dar es Salaam for continued work. It will then be fabricated there and replicated for many companies like Sozi across Tanzania. Preliminary results of the design are showing that companies could recoup the cost of the new dryer in just two months, which would represent a significant savings for them over the life of the machine.
This USAID-funded project was implemented by TechnoServe in partnership with PFS and made possible by the generous support of the American People.