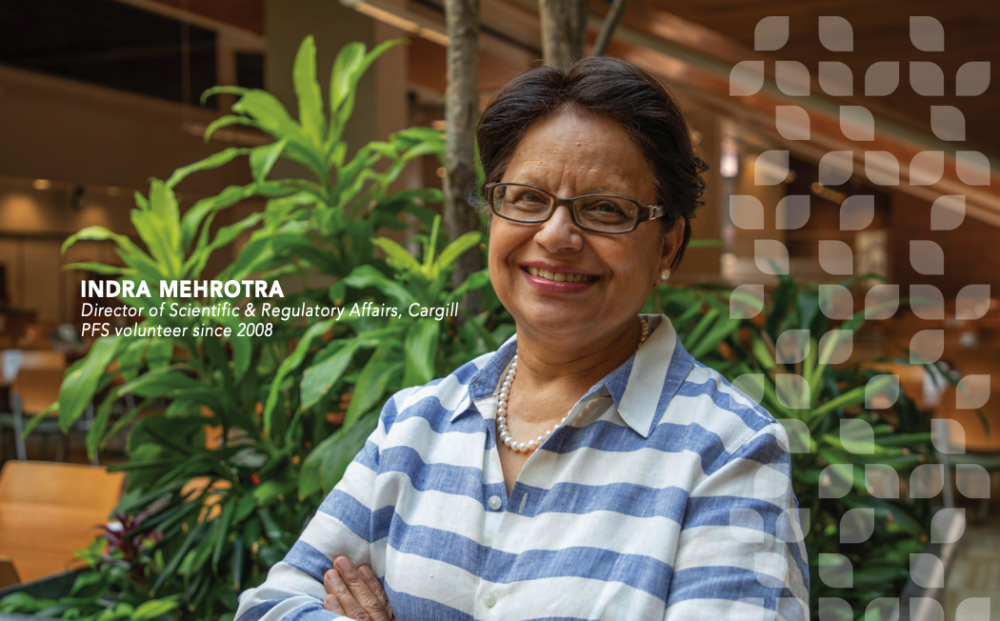 In 2008, when Indra Mehrotra was asked to bring a nutrition perspective to the early-stage PFS at General Mills, she was immediately hooked on the project.
"What a novel idea," she remembers thinking. "I was totally enamored." A decade later, and now working for another Partners in Food Solutions corporate partner, Cargill, she's still captivated.
"I remember when we started, the idea of technology transfer was so exciting. But the enigma was how we were going to actually do it." She says the entrepreneurial spirit was part of PFS right from the start, but challenges were presented by different time zones, geographies and the technology, which at the time wasn't very good at bridging the distance between volunteers and clients. "Phone connections to remote parts of Africa were a real challenge. Once internet connections improved and we were able to better use email, it became a lot easier in so many ways."
She says today the distance between clients and volunteers — in language, technology and culture — has been diminished considerably because communication is now easier and faster. Plus, the process and tools have been refined. "We've evolved
to a much more streamlined process where volunteers can get right to work helping our clients solve problems," she says.  
What keeps Indra engaged is the one thing that hasn't changed in the past ten years — the focus on safe, nutritious, affordable food and economic development in Africa. "I feel it's my professional responsibility to do this work," she says. 
Indra has a background in nutrition and now serves as Director of Scientific and Regulatory Affairs at Cargill. "Knowing the impact that nutrition has on health, it's just something
I personally feel I need to do." And today she says, "I think the focus is evolving from 'food security' to 'nutrition security' and that's important." 
"I always believed that we could make an impact, and now we can see the results. I can see the changes made by our clients as a result of the knowledge volunteers have imparted," she said, "Most of our client companies have benefited because they really just needed a boost."
And it is that boost that she says is exactly what is needed on a continent that has the potential to not only feed itself, but help feed the rest of the world. "We have to unlock the potential of Africa. It must be brought into the system in order to solve global food insecurity."