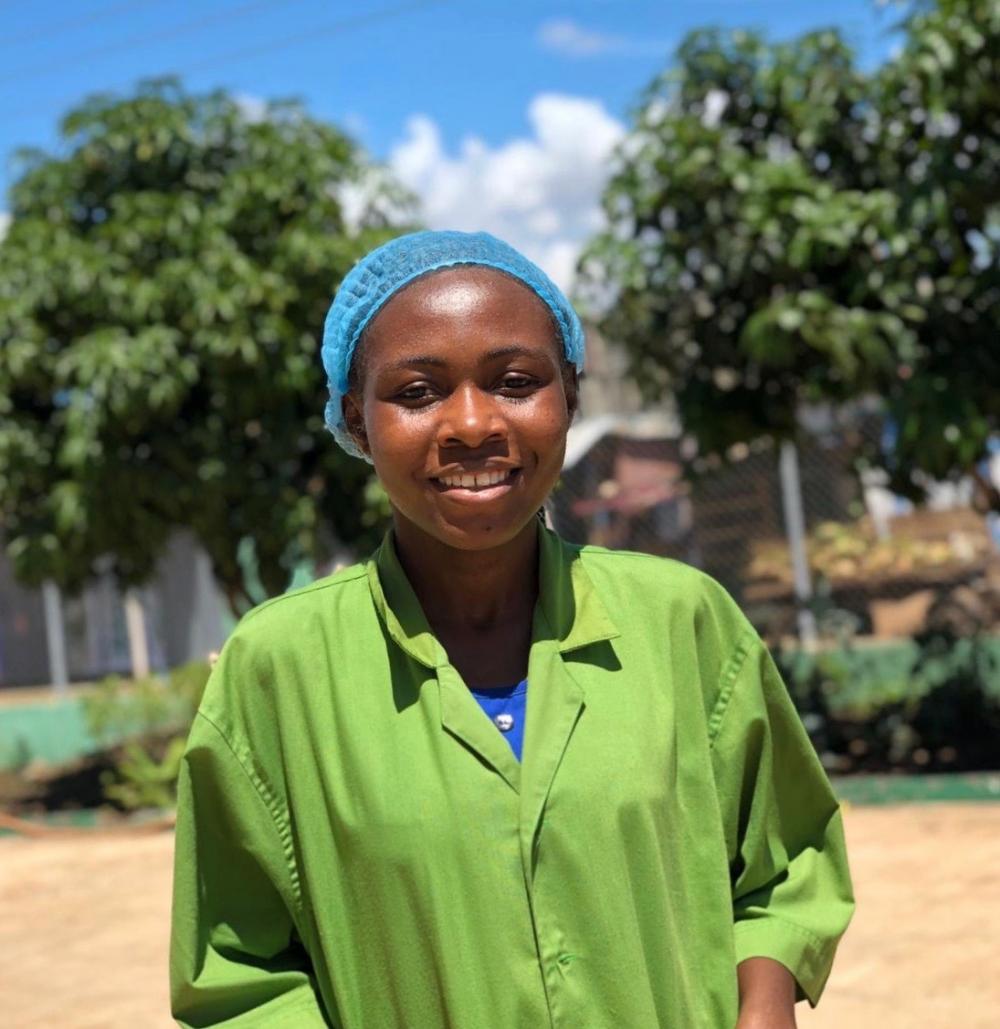 Deborah Korkoi Moi is a PFS Apprentice at Eden Tree, a leading fruit, vegetable and herb supplier in Accra, Ghana. Deborah has been an apprentice at Eden Tree for 3 months and has been gaining experience in HACCP development and implementation, food quality and safety monitoring, internal and external auditing, SOPs and more. "PFS has done well investing in my training and development that will equip me to become a food safety professional in the future. PFS has also allowed me to gain real-life experience in the food industry that I couldn't find anywhere else."
PFS: Why did you decide to get involved with PFS?
DKM: I chose to be an apprentice at PFS because my professional aspirations parallel that of PFS' mission in terms of increasing the competitiveness of the African food processing sector. I saw PFS as the right organization to guide me with purpose, foster my ambitions and help connect me to my career pathway.
PFS: What does being an apprentice at Eden Tree mean to you?
DKM: Being an apprentice at Eden Tree presents a great opportunity to learn from an established facility and one of the best fruit, vegetable and herb suppliers in the country. Currently, I am responsible for: inspecting food samples for growth of particular types of molds and yeast, ensuring that food manufacturing processes conform to government, processing, consumer and industry standards, evaluating the color, flavor, and texture of food, ensuring that water used to wash produce is clean, monitoring the temperature of the chillers used for the storage of produce and organizing training for production staff to ensure they practice good manufacturing practices.
Ensuring food gets to consumers safely and will not cause any adverse health effects gives me the utmost inner joy.
PFS: What skills are you learning as an apprentice?
DKM: Being a PFS apprentice in the Quality Assurance Department at Eden Tree has been really rewarding. I've gotten the opportunity to practice many skills and increase efficiencies and effectiveness of our food safety protocols. Specifically, I am learning:
·         Food quality and safety monitoring
·         Product development and improvement
·         Internal and external auditing
·         SOPs and manual development
·         HACCP development and implementation
·         Communication and decision-making
PFS: Where do you see yourself in five years?
DKM: I hope to be a R&D food technologist creating new products from indigenous produce in Ghana that are safe and nutritious. I also want to pursue a Ph.D. in functional foods and nutraceuticals. In five years, the skills I am learning as an apprentice coupled with what I will learn in graduate studies will allow me to shape the future of food processing here in Ghana and beyond.
Overall, I want to continue to promote the consumption of healthy, safe and nutritious food and enrich African communities economically.