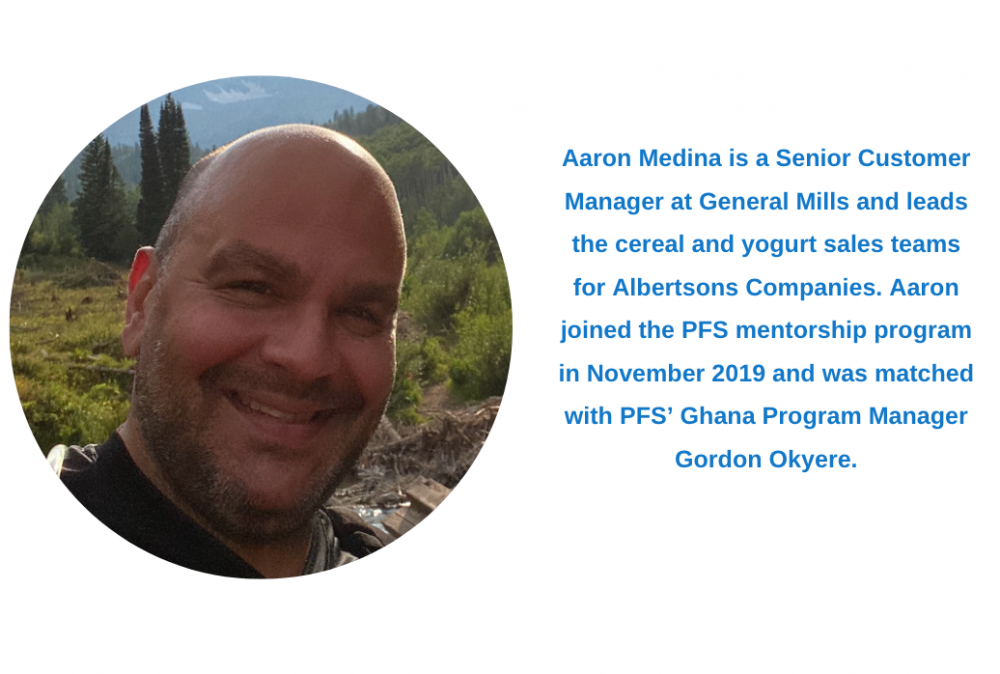 PFS: What was your main motivation for joining the PFS mentorship program?
AM: In my sales career I have learned a ton about relationship building and customer management. I wanted to find a way to use those skills to make a direct and positive impact outside of the US. The goal of empowering people to create sustainable economic growth really stuck out to me.
PFS: What has been your favorite part of the mentorship?
AM: My favorite part of my mentorship with Gordon has been getting to know him and hearing his perspective on the world. I truly feel like I have gotten more out of the relationship than he has. From a business perspective, I really enjoyed working with Gordon to think through the way he approaches his client relationships. Being a results oriented salesperson, it feels good to hear that Gordon was able to break through with his clients by applying a new tactic we talked about.
PFS: Have you learned anything new through your mentorship?
AM: I personally feel the mentorship program has given me the opportunity to build and develop my coaching muscles in a way I wouldn't have been able to in my current role. This experience has helped me think through how I approach situations with my employees and business partners.
PFS: What would you say to someone who is interested in mentoring, but hesitant to start?
AM: I came into the program with some doubt that I could truly make an impact. Wow, was I wrong! Everyone at PFS is very understanding that volunteering isn't your primary job and is incredibly appreciative of anything you can give. I am so grateful that this opportunity has truly given me a new friend and I hope to travel to Ghana one day and meet Gordon in person.