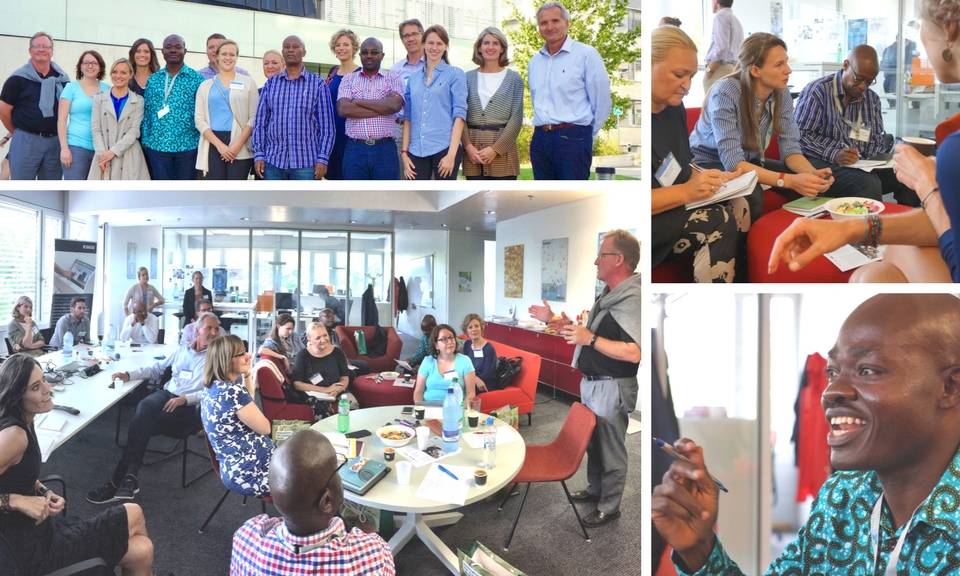 In September, something unique happened in Lausanne, Switzerland. Forty people, from nine countries, on three continents, representing eight organizations, came together for the first time at the first ever PFS European Volunteer Summit.
Over two days this remarkable group of volunteers representing each of our partners, and PFS staff from Africa and the U.S., worked together to develop ideas on engaging new volunteers in Europe. They learned from our three African-based food techs about what they are hearing from client companies in East and West Africa, and introduced the food techs to the vast amount of world-class expertise available among our partners in Europe.
I left the summit inspired by stories, improved through honest dialogue, challenged by creative ideas, and confident that PFS has a cadre of empowered ambassadors ready to lead our nearly 150 talented European volunteers.
An entrepreneurial venue and enlightening perspectives
We were graciously hosted by Bühler at their innovation space in École Polytechnique Fédérale de Lausanne. Like the others at the summit, I experienced firsthand the creative and entrepreneurial thinking that this open and collaborative space is designed to foster. For many of us, it was the first time that we had met in person, including some people that had come from the same company.  
The venue offered the perfect setting for our three African field staff in attendance to intimately discuss stories from the field with European colleagues.  I watched as volunteers' eyes lit up when Christian Dedzo, our program manager in Ghana, shared a story of how he identified his first client by walking through a supermarket and looking for products that he thought could use improved nutritional content or branding.
Volunteers shared with field staff how important pictures and videos are when they are working with clients that are thousands of miles away.  While the PFS' remote model enables us to scale our approach and reach hundreds of clients, we all truly enjoyed the rare opportunity to be together in person.
What's next?
As the summit concluded, I heard a number of ways that we can bring the PFS experience to life and adapt our approach for European cultures including better integration into a companies' HR initiatives, and better communicating partner company leadership's support for PFS volunteers.
Along with all of the fun and productive activities of the summit, I also had the chance to visit Bühler, DSM, and Cereal Partners Worldwide facilities throughout Switzerland and the Netherlands. While our time together was brief, I know that what we have learned and shared will pay dividends in growth and engagement throughout Europe. In the coming year, I will be working  with our team to implement the new ideas and action plans.   
Much like the other participants, I left the events energized, with a renewed focus on recruiting more European experts to empower African entrepreneurs, and enlivening their experience along the way.
If you are interested in joining our growing community in Europe that is focused on strengthening food security, nutrition, and economic development in Africa, please reach out to me at jimmy@partnersinfoodsolutions.com or Rebecca Chou rebecca@partnersinfoodsolutions.com.