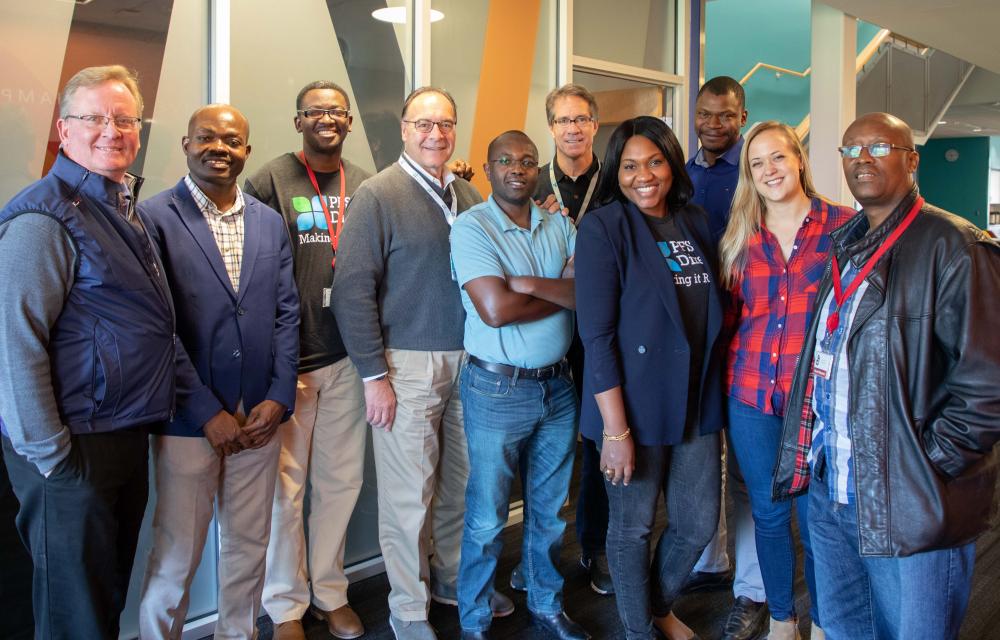 Over the past year, the PFS Direct Model - a program where we directly employ food technologists in Africa - has grown considerably. We now have food techs in six countries and in October they were all able to visit our PFS office in Minnesota for two weeks of training and teamwork.
One of the most significant parts of the trip for the field team - Daouda Sangare (Cote d'Ivoire), Christian Dedzo (Ghana), Vivian Maduekeh (Nigeria), Johnson Kiragu (Kenya), Edwin Gafa (Uganda) and Daniel Mwape (Zambia) - was the opportunity to visit all six of our corporate partners during their time in the US. These visits exposed the team to the vast capabilities of our corporate partners, provided unparalleled learning, and gave them the opportunity to appreciate the breadth and depth of expertise available to them and the African food companies they serve. PFS co-founder John Mendesh told the team "There's not a problem our clients face that one of our corporate partners hasn't come up against already." Thanks to all of our corporate partners for hosting our team!
Another important aspect of the trip was the opportunity for the whole field team to be together in person. They were able to share their own experiences and best practices in sourcing clients, relationship management with clients and volunteers, scoping projects and fine-tuning some of the tools they are using in the field.
Other highlights included meeting with many of the volunteers in person for the first time and attending a Minnesota Wild hockey game. By the end of the two weeks, each of our food techs left with new knowledge and a feeling that they are an integral part of a larger community working hard to improve food security and quality in Africa and beyond.